Update From Iain
It's been a very busy few weeks in the run up to Christmas.  I have been helping residents with many issues in the Ward including unblocking girds and gullies, street light repairs, unjust parking ticket fines and looking at possible traffic calming measures.
I have continued to campaign to protect Our Greenbelt collecting hundreds of more signatures for my petition (an online version is on this Blog).  I recently presented it to the Council's Democratic Services and they have since verified it at 2,195 signatures. So A BIG THANKS TO ALL OF YOU WHO HAVE SIGNED IT!
You may have noticed on social media there are many other campaign groups from across the Borough who are now starting up across the Borough to oppose The Greater Manchester Spatial Framework. I was invited to a public meeting last week by the "Bury Folk" Facebook Campaign Group.  It was packed meeting at the Old White Lion pub in Bury, which was chaired very well by a Radcliffe resident, Mr James Mason. I addressed the meeting on a few occasions and made it clear that, together, we have everything to fight for as the final document is not due for publication until late 2017. They are organising many more public meetings in 2017 and are delivering leaflets to residents across the Borough informing them of what is going on, as many residents are still unaware. If you wish to help them then join this group at "Bury Folk" on Facebook.
The GMSF consultation is still running at the GMCA website (greatermanchester-ca.gov.uk) so if you have not already done so please register your views on their website immediately.
I recently attended the Council's Cabinet meeting and raised my grave concerns over the the 4.9 million projected overspend in the Council's 2015/16 Budget. I asked the Cabinet member responsible for finance if they had a plan to bring it down by the time of the next quarters report but unfortunately she couldn't really say she had one. I then attended the Council's Corporate Parenting Panel which is concerned with protecting young and vulnerable people in our Borough.
Last Sunday I attended the annual Affetside Christmas Carols on the Millenium Green. The music was provided by the Tottington Brass Band and mince pies and mulled wine was on hand.  However, this was a very special occasion as BBC Northwest Tonigh were filming the proceedings and presented local Affetside residents Mr Tony and Mrs Roseanne Davis (pictured below) with a "Star For Christmas" award for all the hard work they have done for the Affetside community over the past 14 years since they moved there. An award richly deserved!!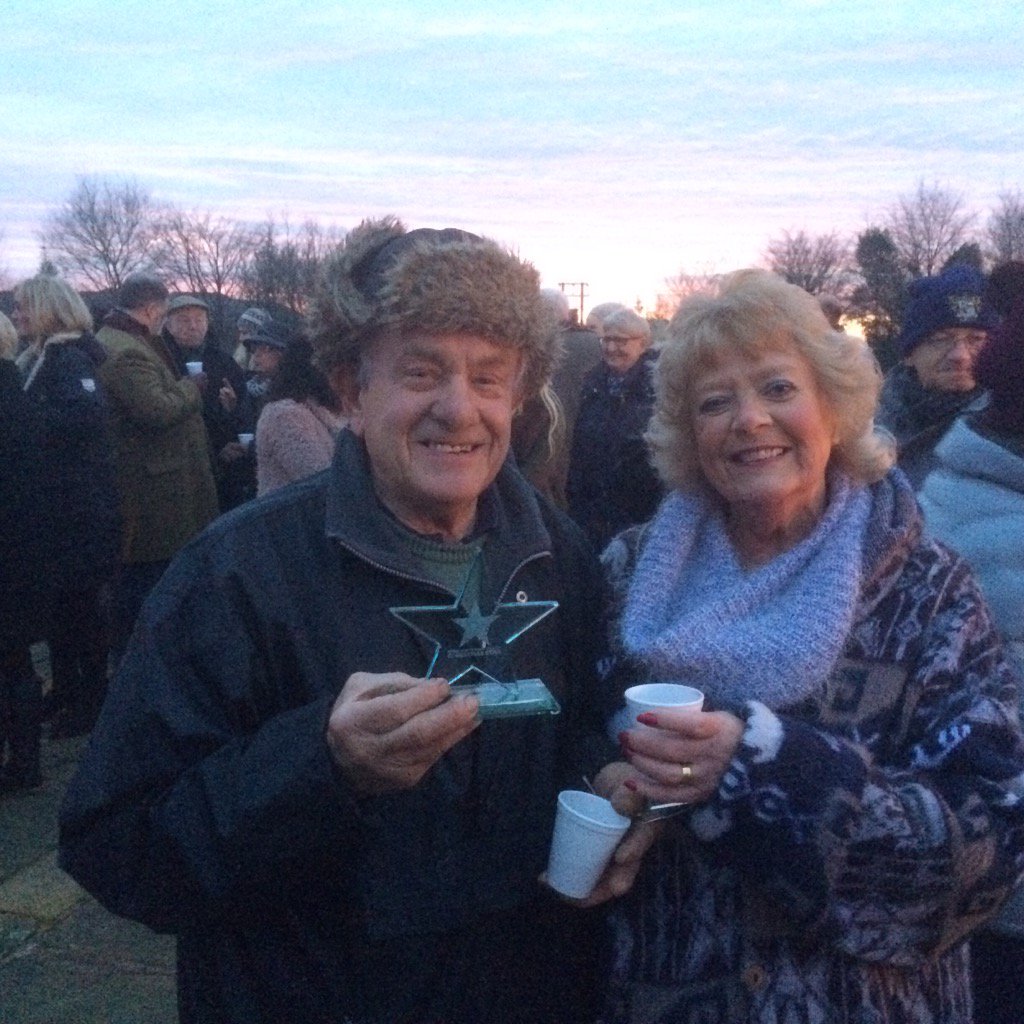 I then attended the carol concert at St John's Free Church in Tottington. The church, over some period of time now has been ungoing extensive renovations and in past years the service has been conducted outside. But we were inside this time, and work to make this a great community asset for Tottington is almost complete. The friends of St John's Church group have done a terrific job and deserve much praise!
Finally, fingers crossed we don't have a repeat of the flooding last year – I have been assured that Bury Council and the emergency services will be on stand-by – however, the weather forecasts suggests that we should be ok.  Going forward we do need much more investment from United Utilities to cope with these periods of unprecedented rainfall that we have been experiencing over the past few years. Councillors and Bury Council have been in contact with them to request more investment in our Borough's sewage systems.
Wishing everyone a Happy Christmas and Peaceful New Year!
Iain
Update From Yvonne
I was sorry to have to miss the Remembrance Sunday  service as  I was away on a special holiday with my husband.It was very interesting to be in America on their Election Day and speak to supporters of both candidates.
The traffic problems continue on Church St near the school.Council Officers and the Police have investigated but unfortunately at present do not have any solutions. I am hoping that soon we will be given a date for the next PACT  ( Police and Community together) meeting when the subject can again be discussed by residents who are affected by the daily gridlock.
You will soon be invited to receive your Council Tax bill online .
The controversial subject of the Greater Manchester Spatial Framework  and the potential loss of Greenbelt land for Housing will be included on the agenda at the next Township Forum. This will be held on Tuesday 10 th January 7 pm at the Tottington Methodist Church and is open to all.
The refurbishment of St Johns Church in Kirklees Street is progressing well  and we received a warm
welcome last Sunday for the Carol service. The church is not yet complete but is now useable.
Affetside was featured on the BBC Look North  programme this week when 2 residents received an award for all their voluntary work with village events, helping to make  it such a lovely place to live…the presenters said as much.
There were no objections to proposals to introduce no waiting / loading on a short stretch of Walshaw Road near Elton High School.
After complaints I passed on to the Greater Manchester Passenger Transport regarding the erratic frequency of  468 and 469 and new service 467,comments are to be passed to First bus and Rosso so that buses do not arrive together.
Monies from new developments  in our Ward ( 106 monies ) have been earmarked for the following:
£10.000  for improvement to Towns Meadow Park
£5305 for the Tennis Courts refurb.
£5000 for improvements to the infrastructure to Kirklees Valley.
We continue to receive requests for pothole repairs. Do notify if repairs are needed in your area.
Work was undertaken in late November to  sort out the problem on a stretch of Watling St which has been wet for months.
I have given assistance to local residents who need to move into Housing Association accommodation  due to declining health.
Residents of Harwood Road continue to be anxious with the threat of flooding. Special flood prevention measures are to be fitted early in the new year but the cause of the flooding has yet to be resolved.
I have attended a  full  Council Meeting and a meeting of Planning Control.No controversial applications in the Ward .
I have as usual been busy with my voluntary work with local charities and attended meetings of both the Deaf and Blind societies. At present I am working on The Blind Societies Luxury Gift Wrapping stall in the Millgate. We are next to Lekerbys cafe ( former Chocoholics ) in Minden Parade.
I helped organise an afternoon tea with the remaining funds I raised last year for a group of local people suffering from severe and enduring mental illness. I joined a group of Carers for a Christmas Lunch and also attended  2 Blind Society Christmas social events with their members.
I supported a concert raising funds for Dementia support Group Musical Memories .
I would like to wish you all a very Happy Christmas and a Healthy and Prosperous New Year.
Yvonne Wright