The By-Election
We have been busy campaigning for the By Election (to be held Thursday 22nd October)and will be out there again on a weekly basis, meeting many of you on the streets in Tottington, Walshaw and Affetside with our superb candidate Greg Keeley. We do hope you will vote for him and return a strong team of 3 hard working committed Conservative Cllrs to the ward (Greg – centre- pictured below yesterday with his supporters, including David Nuttall, MP and Cee Cee the Dalmation!)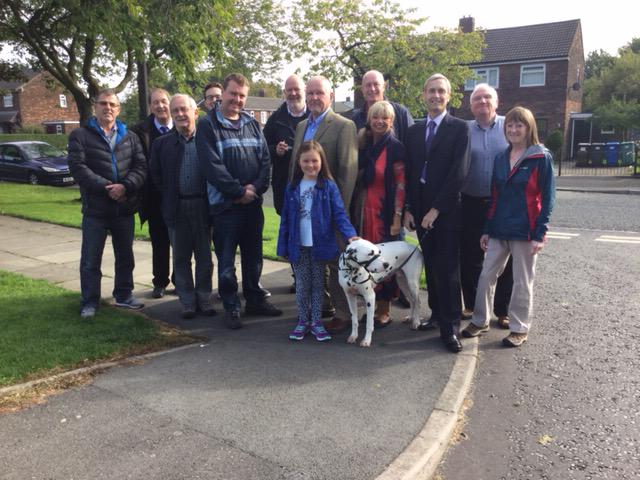 .
I met with an enthusiastic resident of Kirklees Street and an Officer of the Council to request an upgrade for the play area in Towns Meadow Park. Much advice was given and its proposed to set up a Friends of The Park Group and apply for funding. I shall be supporting and assisting the group for a positive outcome which will benefit the young children of the area.
I attended a social evening at a local restaurant with members and volunteers of Bury Blind Society.  Iain and I  have been invited to judge the first Scarecrow competition in Affetside. With so many creative and well designed entries that were located all along Watling St, from one side of the village to the other, it was a very difficult job to find a winner…but we eventually decided upon "One man and his Dog" (Pictured left with David Nuttall MP and Conservative Candidate Greg Keeley)
My thanks to a resident of the Ward who answered my plea for Tombola prizes as I am raising funds With my good friend Lily Reid MBE to fund a day out for people with severe and enduring mental illness. Lily has a long track record over decades of supporting both sufferers and their Carers. If you have any items you wish to donate ,please contact me and I can pick you up.
.I attended the AGM of Bury Blind Society with the Mayor in attendance
I attended a meeting of Bury Rural In equalities Forum and our MP David Nuttall was present. A lively meeting at BRIF with an Officer of the Council present giving an update on Recycling in Bury. Its interesting to hear that despite employing Enforcement staff ,the Council do not issue any fine to persistent offenders who continue to put waste in the wrong bins which then results in a cost to the taxpayer. The Police were present and discussions to place regarding Community Speedwatch.
We then discussed the recently distributed new leaflet from GMPTE regarding the Local Link (subsidised taxi service. The leaflet bears no resemblance to the earlier leaflets and gives very little information. I am concerned about this and am contacting transport for Great Manchester to make my feelings known.
Update from Iain
Residents of Bury Road are still experiencing vibrations from the road after the recent road works associated with the new housing estate at Watkins Place. The Council have again inspected the road this week and have concluded that the building developer should re-lay the road surface and resolve the problem.
I have been dealing with complaints regarding the state of many local footpaths that have overgrown bushes on them and are in a state of disrepair.  Unfortunately, some of these are "Unadopted" so the Council are unable to take any action.  However, I have been requesting that they consider adopting them.
I have also been reporting many pot-holes to the Council, like the one pictured below from Moyse Ave.
Last Thursday, I attended the Ramsbottom, Tottington and North Manor Township Forum at Hawkshaw Methodist Church, where I raised a number of issues regarding vandalism at Towns Meadow Park and lowering the speed limit on Turton Road.  Local policeman Chris Boardman was there and said that investigations on the vandalism was ongoing.
This week I 'll be attending Tottington High School Governing Body on Monday and various other meetings at the Town Hall throughout the week and I'll be also be on the campaign trail for the Tottington By-Election on the 22nd October.
That's it for now!  Thanks for reading
Iain & Yvonne.